Since the 18th century, the island of Lindholmen outside the Gröndal district in Stockholm has been a popular excursion destination for Stockholmers. The name Lindholmen is said to have been inspired by Lindholmen's farm in Uppsala, where Gustav Vasa is alleged to have been born.
From 1776, Lindholmen was managed by the Augustibröderna society, which called the island Vasaholmen, then by the Svea Order, which leased the island 1836-1912 and called it Sveaholmen.
Next to the gazebo there are two memorial symbols (iron flags) connected to the Augusti brothers and the Svea Order.
Johan G. Linderoth
The court watchmaker Johan Gustav Linderoth (18 May 1848 – 2 May 1924), owner of the court watchmaker Linderoths, has made a big impression on Lindholmen. In 1880 he bought the island because he dreamed of "his own rock" where he could spend the summers in peace and quiet.
He renamed the island Lindholmen because it fit well with the first part of his own last name. At the same time he bought the neighboring island and named it Rothholmen as the last part of his surname. The little cob between the two islands was called E-holmen to get it all complete (Lind-e-roth).
Linderoth also planted a tree of every species in Sweden on the island, a total of about 100 varieties.
In step with Linderoth's growing prosperity, the island flourished and the large and lavish parties flourished. It must have been a public pleasure to see the fireworks that Linderoth burned off on festive occasions.
Buildings on the island
The island lacks permanent residents and water and sewage, but there are five summer villas there that Linderoth had built in the 1880s. Urmakarvillan (two assembled villas), Östra villan, Kastellet and Strandvillan. In addition, there is a viewing pavilion and a bathhouse.
There was also a larger dass (toilet building) earlier on the island but it burned down in the 1980s. Dasset was unique and a remnant of Linderoth's stand at the Stockholm Exhibition in 1897.
1. The gazebo, 2. The bathhouse, 3. The watchmaker villa, 4. The beach villa,
5. The steamboat pier, 6. The castle, 7. The east villa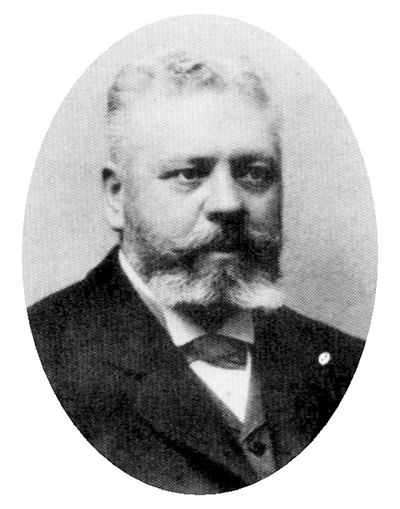 It is the largest house on the island. The building is painted green and the oldest part is from the 1880s. The house has been extended several times and the most recent was in 1912. The watchmaker's villa basically consists of two house bodies that are connected by a glazed corridor that was used as a dining room when it left. More recently as a gallery.
The kastel is the smallest of the house and is located on the highest point of the island. It has a very original façade with ornamental gables that go in Dutch baroque which is unusual on small wooden houses. The facade is painted in red and the carpentry in gray-white. Some doors are painted in a blue-green shade.